You make choices in your life some good and some bad. Many of us don't get recognition for the decisions we make every day – but, Thalia Rodriguez made a choice and became a hero!
The 17-year-old High school senior Rodriguez was driving down Interstate 75 on Sunday morning. She was on her way to do a ride-along at a Hialeah fire station when she saw a man bleeding along the roadside next to a crashed motorcycle,
Immediately, the teenager pulled her vehicle over and sprang into action. However, after EMTs arrived on the scene, shocking news would be dropped on the teen, leaving her in tears.
After taking EKG and first responder classes as part of Westland Hialeah High's Health Science magnet program, Rodriguez was more prepared for the emergency situation she encountered than most would have been, especially most teenagers her age. The 17-year-old checked the man's vitals, but he was unresponsive.
"I knew I couldn't panic," she told the Miami Herald. "At that point, it was only him, only save him, buy him time. Everything else in such a scenario is all a blur except for what you're focused on."
Luis Espinosa, Rodriguez's medical responder teacher, said he was impressed with the skill and grace Rodriguez showed under the intense pressure of that situation.
Rodriguez later learned the man she saved was off-duty Miami-Dade, Police Maj. Ricky Carter.
"It's rather difficult to be 17 and comfort a grown man during a time like that," said Luis Espinosa, Rodriguez's emergency medical responder teacher. "I was rather impressed with the first aid skills, of course, but I was more impressed with her grace under pressure."
Espinosa added that Rodriguez made the right call by applying the tourniquet, even though they often cause people to lose limbs.
"In all honesty in that scenario the most trained cardiac surgeon in the field would have done the same thing," he said. "They had to stop the bleeding, there was no other way to do it, the leg was probably going to be lost anyway, so it was a great decision at a great time."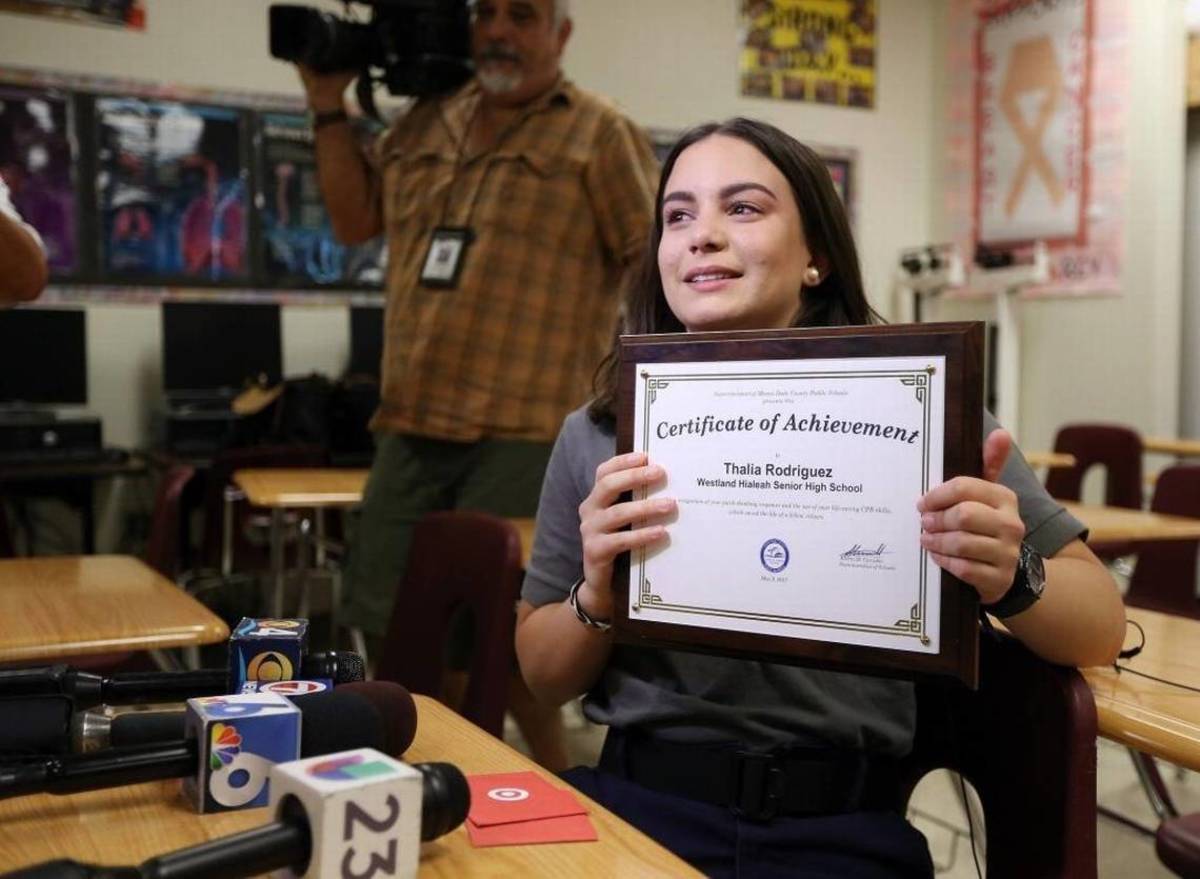 On Tuesday morning, Rodriguez was honored by Superintendent Alberto Carvalho during her emergency medical responder class. Then she rushed off with Carvalho to donate blood at an emergency blood drive for Carter, a man who needs our prayers as he has a difficult road ahead.
It should be noted that while the nurse was unnamed, she was equally heroic.
What a proud moment for both teacher and student! Rodriguez is also a cadet at a local fire station and will attend college and take more first responder courses.
Her ultimate goal is to become a firefighter for one of the stations in the Miami-Dade area.
Sources: OpposingViews, Miami Herald