College student Casey Fischer was out getting breakfast at Duncan Donuts when she noticed a homeless man picking coins up off the street.
While she was waiting in line, the homeless man came through the door, presumably to spend his pocket change on a bite to eat. Casey was overwhelmed with compassion for the man, named Chris and decided to buy him a bagel and coffee then asked him to sit and eat with her.
During their conversation, Casey came to understand how Chris became homeless and how much he was struggling to survive. She learned that Chris lost his mother to cancer, then fell into drugs and turned into a "person he hated." Despite all he's been through, Chris just wanted to be a person his mother would be proud of.
She hoped that her small but kind gesture made things a little easier for him, at least that day, but she didn't realize how much her kindness had affected him.
Before Casey left, Chris took out a pen and scribbled something down.
He handed it to her as she walked away. It wasn't until later that she read the note. She instantly broke down. Just by talking to this man and buying him a small meal, she had saved his life.
Casey posted her story online saying,
"Today I went to Dunkin and saw a clearly homeless guy singing on the side of the road and picking up change. Eventually I saw him stroll into Dunkin, as he was counting his change to buy something I began to get super annoying and talk to him over and over again even when he didn't really want to talk. Since he had maybe $1 in change I bought him a coffee and bagel and asked him to sit down with me. He told me a lot about how people are usually very mean to him because he's homeless, how drugs turned him into the person he hated, he lost his mom to cancer, he never knew his dad and he just wants to be someone his mom would be proud of (along with another hours worth of conversation.)
"This lovely mans name was Chris and Chris was one of the most honest & sincere people I've ever met. After realizing I really need to get back to class Chris asked me to wait so he can write something down for me. Handing me a crumpled up receipt he apologizes for having shaky hand writing, smiled, and left. I opened his note and this was it.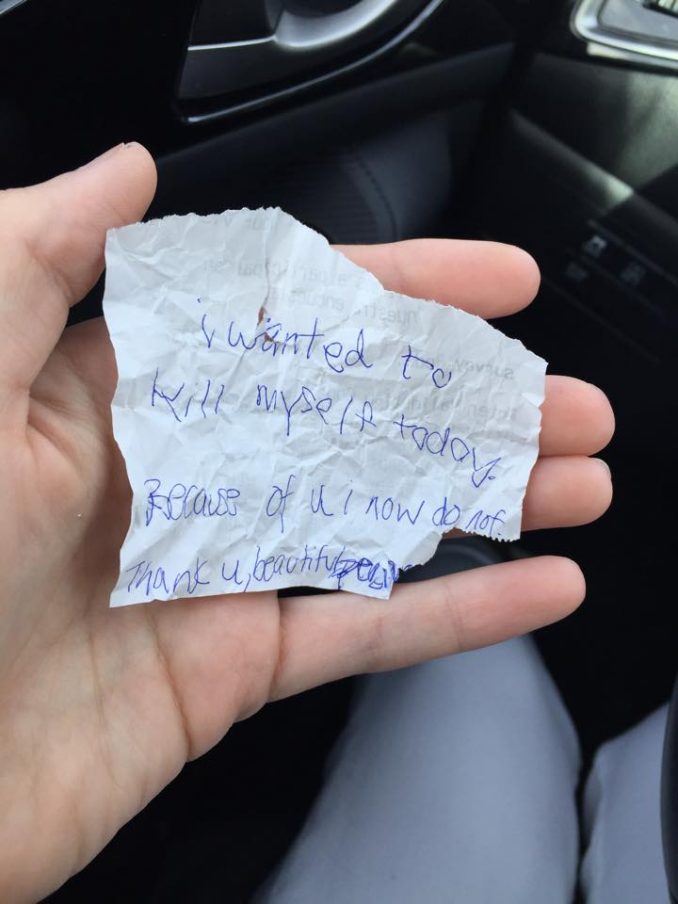 "'I wanted to kill myself today because of u I now do not. Thank u, beautiful person.'"
Sources: Taphaps, Opposingviews, En.stories.newsner