A woman has caused a stir online after she was apparently kicked off a beach when a mom complained that her bikini was too revealing.
Of all the issues you would expect to cause you to get kicked off a beach, wearing a bikini would definitely not seem to be one of them.
Although a confrontation like this is nothing new — last summer, police in France made waves after "awkwardly" asking women to cover up on a beach, while Myrtle Beach police detained a beachgoer for her "offensive" swimwear.
Savannah Sims shared the story, which she called her "worst experience" on April 10, and it quickly racked up over 1 million views. Sims said she was on a beach in Hawaii when a woman left her children and significant other to scold Sims' bathing suit choice.
"This family sits kinda close to me and the mom starts saying to her boyfriend, 'No, I can't have that, that's not OK with me,'" Sims said in the video. "I look up and she's looking at me, so I ask if there's an issue and she says she doesn't want to see my butt and 'lady parts.'"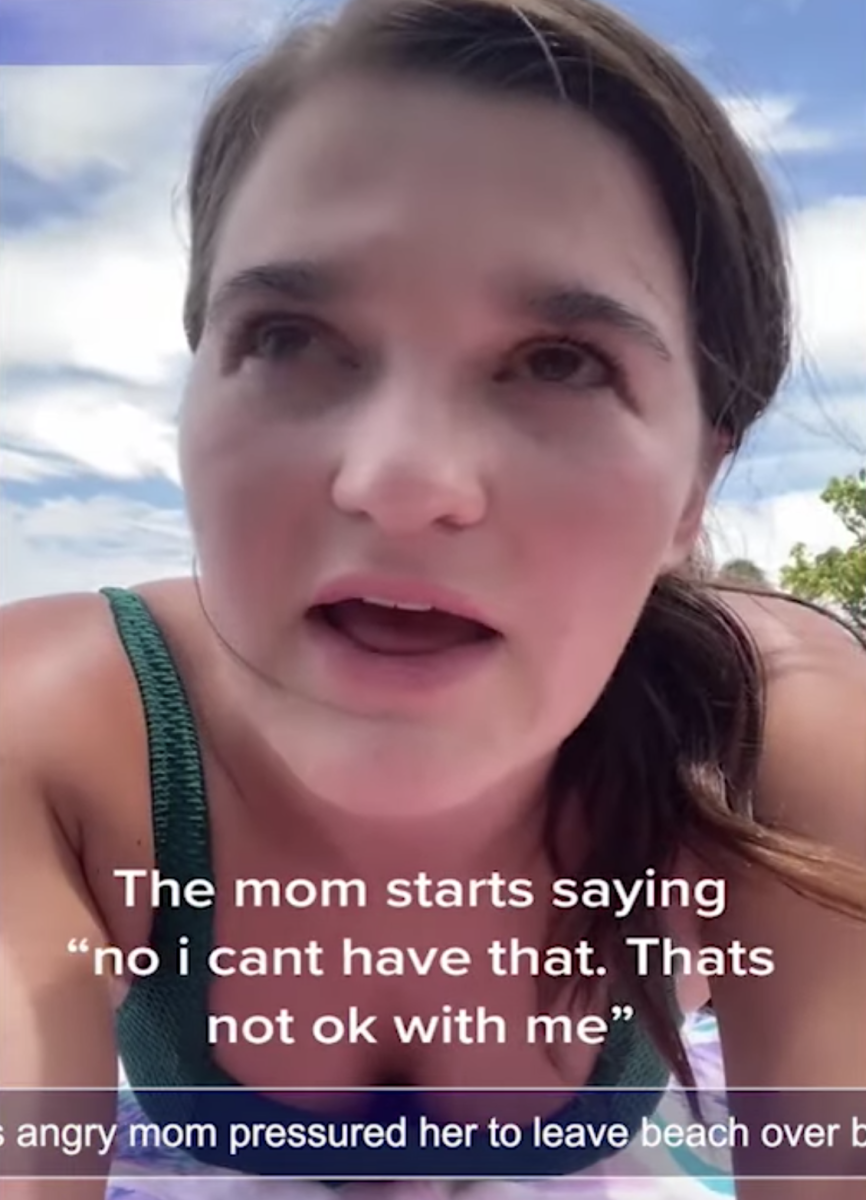 Sims explained that the mother told her she didn't want to see her "butt and lady parts."
"To be clear, this is my bathing suit," Sims added, while holding up the camera to show her bikini. "Pretty frigging normal right?"
Sims explained she asked the mother what the issue was and that the mother simply told her she "was in her way."
"So I got up and left and she said 'mahalo', and it ruined my day," Sims said.
In a follow-up video, Sims mentioned the mother was a "hypocrite" for calling her out on her bikini when she was wearing a thong bikini.
"She is wearing a thong bikini. Which is totally fine, I wear those all the time," Sims said. "But to call me out and take off your skirt and be rocking a G-string, you're either a hypocrite or it wasn't about what I was wearing."
According to AmericaNews, her videos quickly went viral and flooded with comments, with some users apologizing for the woman's behavior.
One person wrote: "We [Hawaiian people] really just don't like tourist[s] but this is just wrong. As a local I am sorry because the local girls here do the exact same."

A second person commented: "As a native islander from the Big Island… we do not claim her. That is not the Aloha spirit we are raised with."

A third wrote: "My neighbor is from Hawaii and he says the locals are sick of the tourist[s]. Maybe she is a local and tired of tourist[s]. But they need to be nice."

Another person wrote: "When I went to Hawaii I got a lot of dirty looks and people talking about me. My friend that lived there said they basically hate mainland people."
The outlet noted that some slammed Sims for writing that Hawaiians need to "share" their world with tourists.
One comment read: "I'm from the Big Island of Hawai'i. That beach was my playground. I don't get the lady's issue. Sorry bout it. However you lost me [with] your caption."

A second wrote: "The caption just shows why you need to leave and never go back. Hawaii has had to 'share' since the US forcibly took over in 1959. The ignorance."
Watch the video below for more details:
Sources: AmericaNews, Daily Mail