A woman made the decision to combat manspreading on public transportation by squirting the liquid on offenders' crotches, whom she accused of engaging in "gender aggression."
In a video taken by Russian Anna Dovgalyuk and viewed more than 1.5 million times, Dovgalyuk brazenly walks up to seemingly unsuspecting men sitting with their legs spread wide on the St. Petersburg metro subway system and douses them with diluted bleach on the pants.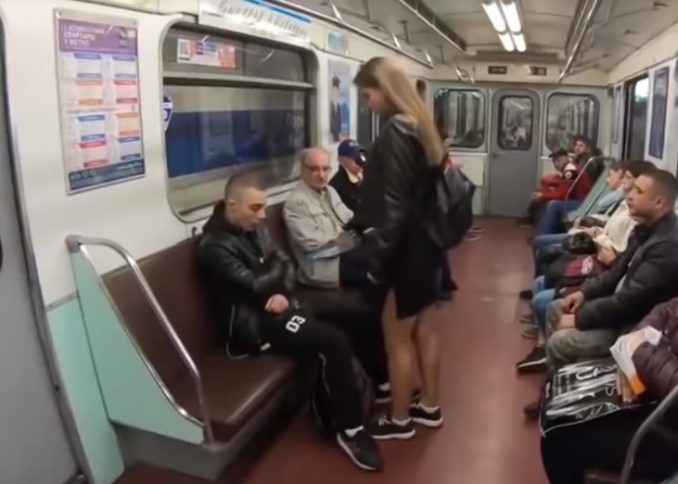 The video was uploaded in late September 2018 and was receiving a million views each day. Numerous news websites picked up the story, which sparked a tremendous internet outrage.
Dovgalyuk and the other people engaged in the video received admiration, criticism, and more severe threats of violence in the comments. But shortly after once the video went viral, concerns regarding its veracity surfaced.
Was it a set? Was it, as some claim, a carefully planned piece of propaganda sent by the Russian government? If so, what was the purpose?
Dovgalyuk is a relatively fresh activist on YouTube. Her second post on the platform was the video. Her debut film, which was also filmed on the St. Petersburg Metro, featured a feminist subject. It was a demonstration against upskirting, which is the practice of photographing women's skirts, and it featured a model (not Anna) lifting her dress to reveal her underwear to onlookers.
However, in response to claims that Dovgalyuk's "manifesto" was faked and the passengers who were manspreading were hired actors, Dovgalyuk defended her campaign against what she called the "disgusting" act of manspreading.
That video received a lot of attention as well, which inspired Anna to focus on a project criticizing "manspreading"—the practice of males spreading their legs out in public spaces or inconveniencing other passengers in different ways.
A man who allegedly appeared in her video was described by an online news source in St. Petersburg called Bumaga as acknowledging that he had been paid to ride the train and been squirted. Bumaga copied the man's post from the Russian social media site Vkontakte. But she disputed the claims that it was staged and that anyone received payment to have diluted bleach thrown on them.
"This is some completely random guy," she says, "I don't know what kind of actor he considers himself to be… but there is no evidence, it's just somebody's claim."
Watch it here: Youtube/Rebel News
Sources: Taphaps, CBSnews, Latimes