After finishing her graveyard shift, a Virginia nurse Pam Medina, 48-year-old caught her colleague rummaging through a donation bin in the break room. She then identified her co-worker's name as Sara Putman, a 47-year-old who was scrambling to find babies' supplies.
She found out that Sara was just granted custody of her 7-month-old granddaughter and was scrambling to find supplies. The court-ordered decision came as a surprise, and between Putman's upcoming shift and the baby on the way, she didn't have time to collect the items baby Isabella needed.
Enthusiastically, Medina responded, "What do you need? I can find you everything you need."
And she got right on it as soon as her 12-hour shift ended. She hit up various Facebook groups with her mission and tons of moms responded.
She was able to pick up so many key items and surprise Sara just as her day shift was ending.
Before she knew it, Pam was driving all over Virginia to pick up free stuff for Isabella. It was a tireless job and she barely got sleep, but she was more than happy to do it. Everything Sara could need, like strollers, clothes, and bottles, were donated. Sara had absolutely no idea what was in store!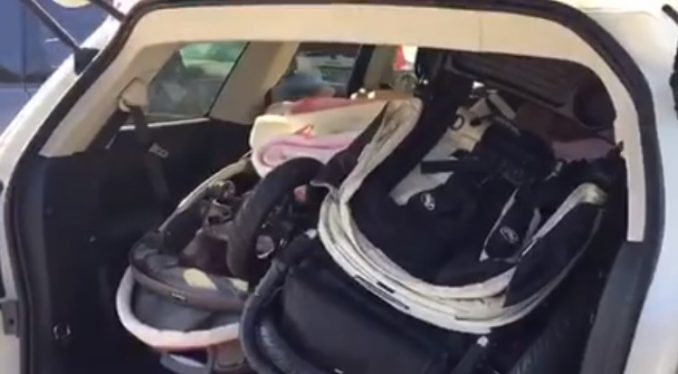 She reached out to various Facebook groups in the area that she likened to an online yard sale, with a message saying: "Folks, just send me what you have. I'll be more than happy to pay for it. Tell me where to meet you, and I'll pick it up."
"Hundreds of moms responded," said Medina, a mom of 5 children herself. "Either it was very low cost, or [they said], 'Pick this up, you can have it."
Watch it here: Inside Edition/Youtube
The massive pile included not only a stroller but a bouncy seat, a tub, and baby clothes too. "I haven't had any sleep!" Pam can be heard telling Sara in a video captured of the ordeal, which she posted to Facebook. "I've been running around picking stuff up all day long. And, I've got more to pick up, I just ran out of time!"
Medina told InsideEdition.com that she was inspired to help a coworker, whose last name she didn't even know until that day, because she was touched at Putman's decision to take custody of her 20-year-old son's daughter, Isabella.
"[The] baby would have ended up in foster care for sure," Medina said.
But the community's support continues. Medina said that she was scheduled to pick up more supplies from people around town on Thursday, but has told them, "Let her go through what she has and figure out what she needs," she said.
Sources: Taphaps, Inside Edition, Yahoo News, Daryn Kagan, Little Things