A recall for several Jif Peanut butter products has been issued due to a possible salmonella outbreak.
On Friday, J.M. Smucker Co., the parent company for the popular peanut butter brand, issued a voluntary recall. The Food and Drug Administration along with the Centers for Disease Control and Prevention and local partners are investigating the outbreak that so far spans 12 states.
SALMONELLA OUTBREAK: Check your home for recalled Jif brand peanut butter. If you have recalled peanut butter, throw it away. Don't eat it.https://t.co/XgxvMICvUY pic.twitter.com/2iw3js7HvI

— CDC (@CDCgov) May 21, 2022
In a statement from the company's website, Jiff states:
"Our teams are coordinating a thorough investigation into this matter in collaboration with the FDA to determine appropriate steps."

"Again, we apologize for the concern this will create. Please know our number one priority is to deliver safe, quality products to our consumers. When there is any potential issue we act swiftly, as we have in this instance."
More details of this recall from the Food Safe News report:
The store-prepared items were available for purchase at the following banners: Albertsons, Safeway, Lucky, Haggen, Carrs-Safeway, Eagle, Tom Thumb, United, Amigos, Market Street, Albertsons Market, Andronico's Community Markets, Vons, Pak 'N Save, Shaw's, Star Market, Randalls, Vons, Jewel-Osco, ACME, King's and Balducci's.
This recall comes after J. M. Smucker Co,'s recall of dozens of Jif brand peanut butter products because of a new outbreak of infections from Salmonella Senftenberg. The full recall can be viewed here.
The Centers for Disease Control and Prevention are reporting 14 patients across 12 states with two people having been hospitalized. No deaths have been reported as of today.
In case you don't know, according to the CDC, food contaminated with Salmonella bacteria does not usually look, smell, or taste spoiled. Anyone can become sick with a Salmonella infection. Infants, children, seniors, and people with weakened immune systems are at higher risk of serious illness because their immune systems are fragile.
Here's what the FDA said in its press release:
"CDC's review of epidemiological information indicates that five out of five people reported consuming peanut butter and four of the five people specifically reported consuming different varieties of Jif brand peanut butter prior to becoming ill."

"Consumers, restaurants, and retailers should not eat, sell, or serve any recalled Jif brand peanut butter," the FDA said, adding that consumer should check their peanut butter at home as the products have a two-year shelf life.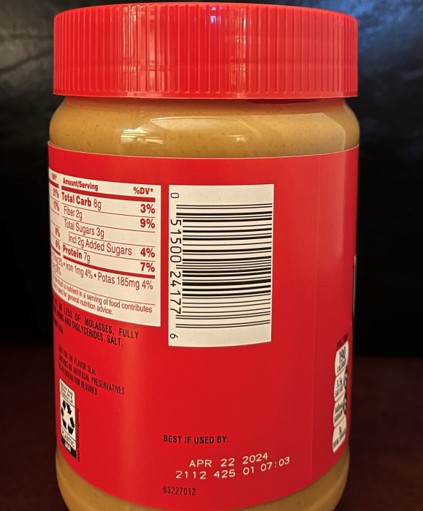 Breitbart added:
Salmonella can cause salmonellosis, a gastrointestinal illness in which most patients experience fevers, diarrhea, and abdominal cramps, the FDA noted. More severe cases can include "high fever, aches, headaches, lethargy, a rash, blood in the urine or stool, and in some cases may become fatal."
Elderly individuals, children, and those who have compromised immune systems are more susceptible to the illness, the agency said.
Anyone who has consumed one of the recalled products and is experiencing symptoms of salmonellosis should contact their doctor, the FDA. Additionally, those who "have used" one of the products "should wash and sanitize surfaces and utensils that could have touched the peanut butter."
Consumers who have questions or would like to report adverse reactions should visit www.jif.com/contact-us or call 800-828-9980 Monday-Friday, 8AM-5PM EST.
Sources: Breitbart, Foodsafetynews