Another controversy for Governor Gretchen Whitmer where she got caught breaking her guidelines on this pandemic crisis.
We all know how tight Gov Whitmer's guidelines and regulations for restaurants and bars across Michigan. Not to mention most of them suffered fines and losses so huge that some had to close their doors for good. Despite these guidelines are truly devastating, brave business owners fought the mandates and were able to pay thousands of the fines to open back again.
"Consumption of food or beverages is permitted only in a designated dining area where patrons are seated, groups of patrons are separated by at least 6 feet, no more than 6 patrons are seated together (at a table, booth, or group of fixed seats), and groups of patrons do not intermingle." this is the latest mandate issued by the Governor but still over-the-top!
Breitbart News was able to obtain a photo of Governor Whitmer at a bar in East Lansing, Michigan where you can see on the photo that she is huddling with a large group of people and seems to have a good time. (Photo on top) East Lansing is the home of the Alma Mater of Governor Whitmer at Michigan State University, where she was in the sorority Kappa Alpha Theta.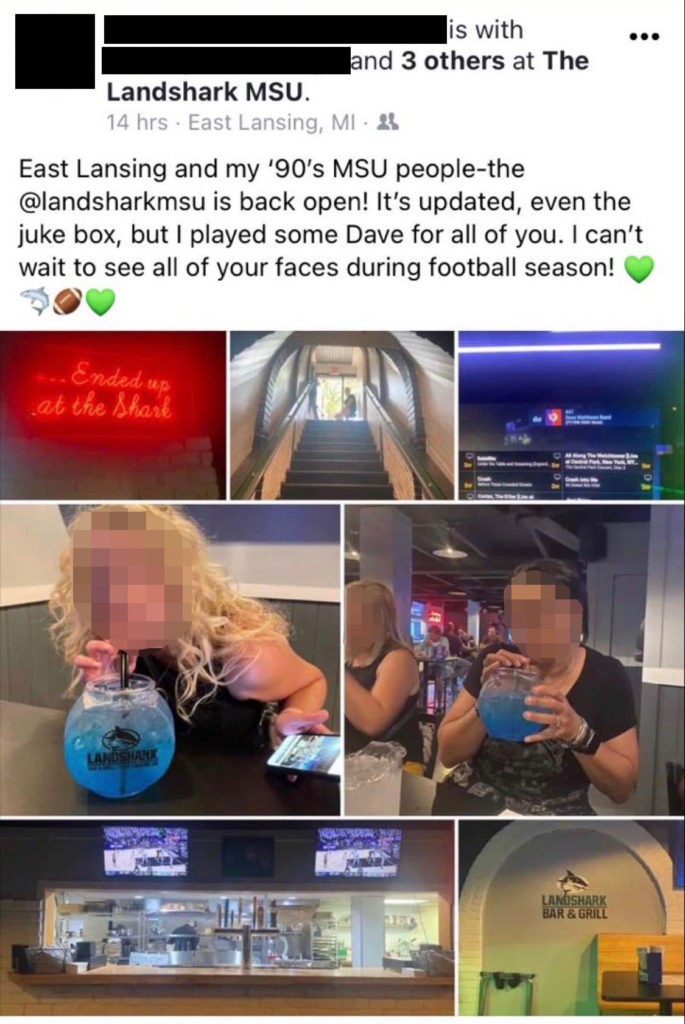 Governor Whitmer released a statement, apologizing for the actions which broke her guidelines. With the Governor can't follow her guidelines, can those business owners get their refund for their fines too?
REACTION: After a photo surfaced of @GovWhitmer at a table in an East Lansing bar with a dozen other people, seemingly against her own COVID orders, her press secretary released this statement from Whitmer:@9and10News pic.twitter.com/fePStJvfK8

— Eric Lloyd (@EricLloyd) May 23, 2021
For the record, numerous bars have been penalized for doing exactly what Whitmer is doing. Hypocrisy at its finest.
Many Michiganders suffered tremendously from the Governor's mandate, even Meshawn Maddock of Michigan Conservative Coalition and Michigan Republican Party Co-Chair expressed her feelings about the hypocrisy caught on the act on her Twitter account.
https://t.co/kYh3oSVlN7 I understand completely Whitmer, many of us don't follow your cruel senseless rules either. It's just sad for the law abiding citizens who do trust you… #PureWhitmer

— meshawn maddock (@CoChairMeshawn) May 23, 2021
-Hairstylists were targeted by Nessel as they gave haircuts on the lawn of the Capitol one year ago, can they apologize and get their thousands of dollars in legal fees back?
-Marlena also apologized for not following Whitmer's restrictions; her bail was $15k. Her business is shut down.
Or maybe she's exempted from the fines because she's the Governor? Hypocrite!
Sources: 100 Percent FedUp, Breibart