What a teenager thought would be a harmless afternoon of fun turned into a life lesson.
A Phoenix teenager received a creative punishment from his parents after they discovered that he had taken out their Range Rover without permission and gone on a dangerous joyride.
Angel Martinez is a 14-year-old who thought he could get away with a lot more than he did. His parents laid down the law after he stole their Range Rover while they were on vacation celebrating their anniversary. Unfortunately for him, his joyride took a dangerous turn, garnering the attention of the local police, and it was all downhill for him from there.
"I just wanted to drive but I don't have a license so I just took it," Angel Martinez said.
"I can wash the car, and I was like I don't have anything to dry it, so I'm gonna take it for one spin until it dries," he explained.
However, that explanation didn't cut it when the cops caught him speeding and notified his parents.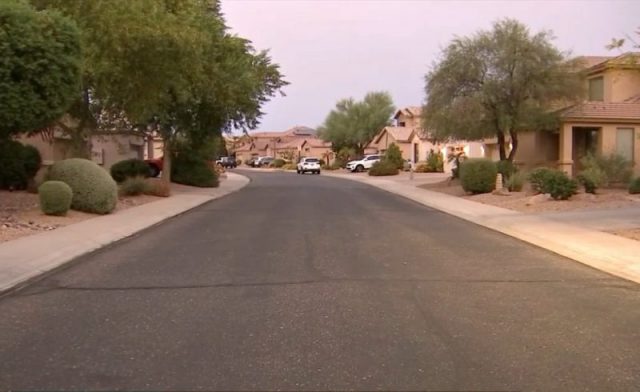 Ramon Martinez and his wife were in Las Vegas celebrating their anniversary when they received a call from Phoenix Police saying their Range Rover had been spotted speeding around the neighborhood.
Fox 10 reported that Ramon and his wife devised a creative punishment that they hoped would teach their son a lesson. With Angel having been in trouble a few times before and no other options, his parents decided it was time to clean the house.
Ramon recalled:
"We got back to the house. We took all his stuff out, his room is 100% empty, and we're just giving all his stuff away," he added, referring to all of his son's personal belongings.
Not only was all of Angel's possessions spread out in front of the house for others to take for free, but his parents also made him sit outside for hours with his belongings and an apology sign as well.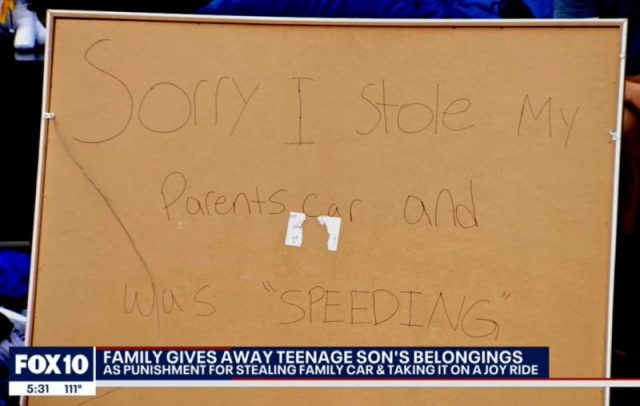 The cardboard sign read: "Sorry I stole my parents' car and was speeding."
And, Angel's belongings went as fast as the Range Rover he was driving, meaning he'd be sleeping on the floor or a couch for a while. Now, Angel knows what it's like to have his personal property taken without his permission, and his dad hopes it teaches him a lesson.
Then, the disappointed dad said, expressing his hopes for his style of parenting:
"Hopefully, you know, you do what's right, and you'll be able to tell later in the years. For now, you know we're just trying to do our best to keep him out of trouble and make sure he understands that things like this will not be tolerated."
"It's kind of weird, but I think it's a fair punishment. However, only time will tell whether it was effective in making a point and discouraging the boy from doing something similar again," he added.
Watch it here: Fox10/Video
Sources: Taphaps, NY Post, Fox 10