Immigration officers rounded up more than 80 criminal aliens in a three-day targeted operation covering several northwestern states.
Officers arrested 77 men and seven women during the operation that included Alaska, Oregon, and Washington.
But, as much as libs like to think ICE is on a mission to remove only Mexican illegals, that is undeniably false.
According to sources, those arrested came from twelve separate nations including; 64 from Mexico, eight from Guatemala, two each from Honduras and the Philippines, and one each from El Salvador, the United Kingdom, Cambodia, Brazil, Laos, Western Samoa, Myanmar, and Russia.
The criminal aliens arrested have records you won't BELIEVE:
19 for Driving under the influence; seven for assault; four for larceny; three for domestic violence; two each for sexual assault, larceny from a building, cocaine possession, methamphetamine possession, and possession of a weapon; and one each for fraud, violation of a court order, possession of heroin, indecent liberty with a minor, weapons offense, stolen property, dangerous drugs, lewd or lascivious acts with a minor, damaging property, drug trafficking, sexual assault carnal abuse, possession of marijuana, illegal entry after deportation, selling cocaine, forgery, and other traffic offenses.

Officials noted the list only includes the most serious crime in the alien's record.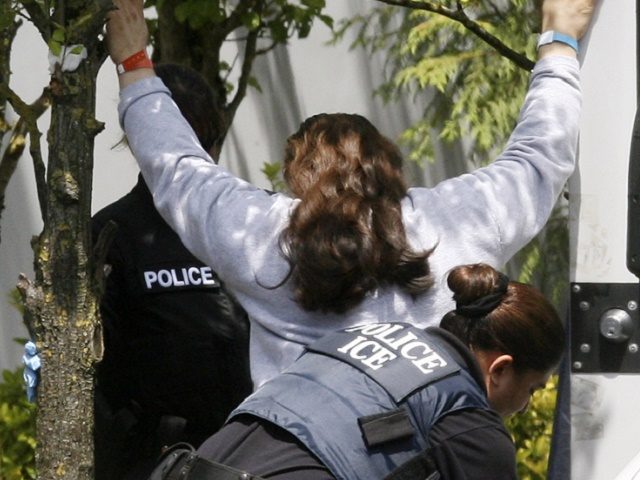 The goal of the three-day operation, according to ICE officials, was to target criminal aliens 'posing a public safety threat.'
The mission also targeted previously deported criminal aliens and immigration fugitives ordered removed by an immigration judge.
"This operation highlights our commitment to promoting public safety through the pursuit of targeted criminals residing in the U.S. illegally," acting field office director for Seattle ERO Bryan Wilcox said in a written statement. "Our officers will continue in their efforts to create safer communities by identifying and removing those not willing to comply with U.S. laws."
According to Breitbart, ICE officers referred some of the individuals to the Department of Justice for prosecution for the offense of illegal re-entry, a felony with a possible penalty of up to 20 years in prison. Officers processed those not facing prosecutions for removal hearings. Aliens who have outstanding orders for removal, or those who returned after deportation, may be removed immediately.